On-Site Studios is a remote video production company that specializes in producing video content and live streams from ten to thousands of miles away from the studio. We're able to utilize cutting edge technology and our decades of production experience to create professional content for our partners.
On-Site Studios was originally developed to allow great video content to be created without geographical limitations, and for a fraction of the price of conventional video production.
Now, after over a decade in business, On-Site has grown and evolved to better master those goals. We are continuously pushing technological improvements to allow us additional quality, control, and client interaction from our home offices in Wisconsin. No longer is knowledge of advanced camera techniques, editing and lighting needed on location; On-Site does all the work. We help with planning, run the filming sessions, and do all of the post production and animation work in house for digital delivery to our partners.
Let's walk through exactly how easy it is to set up and use an On-Site Studio.
INSTALLATION
Client: Locate a 10' x 12' room or larger for the studio and contact IT about an internet connection to that room. Schedule a time for studio installation.
On-Site: Source all equipment and build and program your production studio. Travel to client location. Fully install, test and train local team.
PRE-PRODUCTION
Client: Schedule videos and live streams from your new studio using On-Site's online portal, Backstage. Write script, if applicable.
On-Site: Review content. Work with client on specific needs for individual projects.
PRODUCTION
Client: Enter the studio. Put on the microphone. Turn on a light switch. Deliver your message. Return the mic and turn off lighting when completed.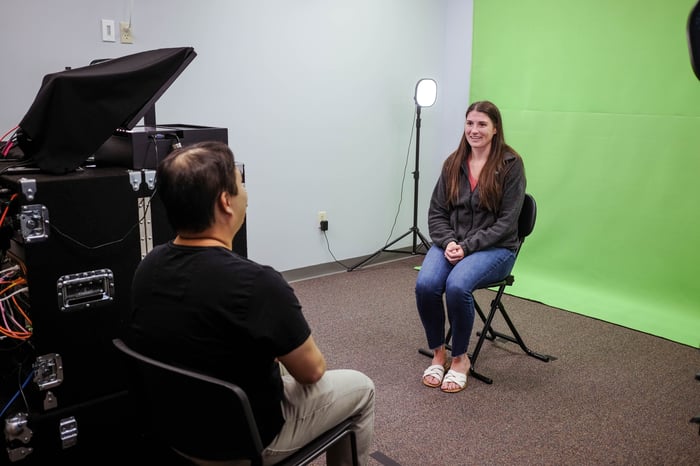 On-Site: Connect to client's studio, focus cameras, adjust lighting, ensure proper audio levels, and record. Ask questions if it's an interview. Control teleprompter if it's a scripted message. Work with client to get the best possible results.
POST-PRODUCTION
On-Site: Edit recorded footage using client's brand standards. Add titles, animations and captions, as needed. Upload video to our collaboration site, Frame.io, for review.
Client: Watch video and make comments.
On-Site: Make requested changes and upload finalized video, once approved.
Client: Show off your new video. Schedule more videos.
On-Site Studios allows our clients to focus on the strategy and creative elements of their video production rather than the production itself. They enter a project in the system via the online portal, clip a mic to their lapel, turn on a light switch and we do the rest. In under a week, a fully edited draft will be in their inbox waiting for comments or approval. With On-Site Studios, it's that easy.
On-Site Studios has been involved in all manner of video projects including interviews, webinars, trainings, demonstrations, profiles, podcasts, and livestreams, to name just a few. Our client care team will work with each partner directly, to plan new and exciting projects and to use the studio to its fullest extent.
The need for video is constantly growing, and it is critical that organizations are able to find a trusted, high-quality, cost-effective partner to work with. On-Site Studios is that partner. With over a decade in business and approaching 10,000 completed projects for our clients, we have the talent and expertise to meet any video challenge. Whether as the only video solution or as part of a collaboration with an in-house video team, On-Site Studios can help.